Monday Music's the one weekly post wherein Some Of It Was True! drops its London-only rule.
Waskerley Way – Sista
An electro shanty with one motherlicker of a build-up, Sista opens with some Underworld-esque revolving swishy noises before breaking into some 6/8 –  a bit Leftfield (in both senses), and from there, it just intensifies to some brilliant electro noise. This Geordie producer gets extra points for pioneering the feline-influenced genres 'meowgaze' and 'catwave'. Cracking.
Mozart Parties – Memory Thunderstorm
Picture vast landscapes with rolling hills, trickling brooks, cobbled lanes and a load of sheep, then give it a fluorescent, Warhol-like wash (and pop some fairy lights on those sheep), and you've got Mozart Parties' Memory Thunderstorm.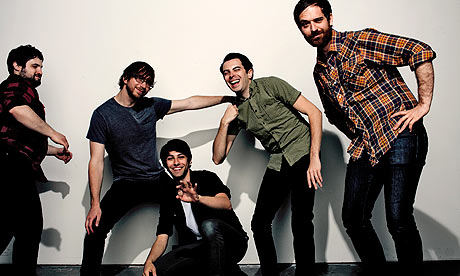 Milagres - Glowing Mouth
Everyone is so SO keen to compare Milagres to other bands. The comparison that upsets me the most is that to Coldplay. WHAT DO YOU MEAN? Shut up! Glowing Mouth is proof of far more intelligent stuff, with the perfect balance of textures from keys and percussion, and Kyle Wilson's incredibly expressive voice, which with ease floats into falsetto, almost like he's reading you a bedtime story. Chris Martin and his merry men could not do this. What does Paul Lester know anyway, right? (Aside from most things about music.)
Beat Culture – Useless
Most 17 year old chaps are busy trying to get served in watering holes, or get in ladyholes. But not producer Beat Culture. Nope, he's on his second album, and just starting to perform live sets. Useless is his latest creation, which I stumbled upon by recommendation of Blackbird Blackbird on Facebook. Its a dreamy, electronic work, with lots of clinky metallic sounds and high, child-like vocals. If desperation, like probably a lot of his peers, is getting him nowhere, producing this kind of magic is most certainly going to get him laid. It sounds like I'm offering. I'm not.
A.P. Witomski - Ambulance
Arnaud Witomski's Ambulance is sex. The kind that struts into the room, dressed in tight lurex leggings and a flouncy shirt, and starts rubbing his groin on your leg. Sure, you're bemused (your parents sat across the living room are choking on their bourbons) but you know what, it's also fine, you sort of like it and you're quite happy to go along with it until he gets tired and gives up. Weird sexy moments aside, check out Arnaud's latest album Transmissions.